Semi permanent urinal for events and city centers
We proudly present to you our latest innovative product, the Pluto4 semi permanent urinal.
Our customers' experiences and wishes are incorporated in this new, innovative mobile urinal unit, designed to be deployed in a wide variety of conditions and locations.
Where the Pluto3 urinal is best suited for use on special events, due to its logistical advantages (stackable to up to 4 units), the Pluto4 is a more permanent urinal, ideally suited for lengthy periods of placement, such as in city centers, camp sites, gas stations, picnic areas, marinas etcetera.
Its attractive design makes the Pluto4 mobile urinal the ideal solution for reducing public urination in nearly all situations. The unit can be drained into the sewer system or be serviced by a toilet rental company. It's floor space is identical to that of most common portable toilets, ensuring a smooth and carefree integration in the existing toilet fleet of rental companies.
Specifications:
Height: 1930 mm
Width: 1150 mm
Depth: 1150 mm
Weight: 75 kg
Capacity: 490 Liter
Available in: Gray
The Pluto 4 comes with: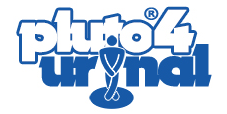 Easy moveable with slots for pallet jack and forklift
Closed waste tank – transportable with content
Easy to clean inside and outside
Reinforced base
Optimum privacy
Drainage on two sides
Handles for easy handling
The Pluto4 urinal stand, convenient, cost-effective and easy to clean!