The universal hand wash station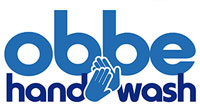 The hand wash station Obbe fits in all known portable toilet brands and models.
The Obbe wash station can be placed both on the left and the right side of the toilet.
Waste water can be drained to the toilet wastetank or in every other way possible.
Specifications:
Height: 1100 mm
Width: 380 mm
Depth: 205 mm
Fresh water Capacity: 34 liters
Available in: Gray and Granite
The Obbe in-unit comes with:
Footpump
Hoses for wastetank attachment
The Obbe wash station was designed by Atlas Portable Sanitation in 2013 and introduced on the Eurotoi 2014 Exhibition.
It's popularity among rental companies is not only because its slim design is beneficial for toilets users, but it's also economical in transport.