Atlas Sanitation Products – From Rental Company to Total supplier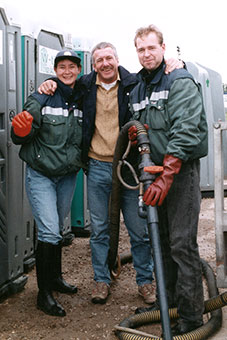 In 1994 W-tje Toiletservice was founded by Nico Walraven and his girlfriend (and present wife) Joke ter Wijlen. From a room in the parental home of Nico the company started with a small number of portable toilets, supplying portable sanitation to local building companies and nearby events, W-tje became a regionally well known service provider.
In two years time the company grew from a local rental company to a national service provider, maintaining around 600 units a week, primarely placed on contstruction sites. National fame resulted in requests for supplying portable sanitation facilities to national events like The World Liberty Concert in Arnhem in 1995, stadium concerts of bands like Guns 'n Roses and Pink Floyd and open air concerts of Brian Adams and Parkpop, the biggest one day free of charge festival in Europe.
The company also contributed to charity. Since 1995 it has supplied portable sanitation facilities during the RoParun, a relay race of appr. 520 kilometres from Rotterdam to Paris, raising money for cancer Victims.
W-tje Toiletservice placed a large number of toilets at the start and finish, and also at checkpoints. As the event grew, so did the number of toilets during this four day event, facing W-tje Toiletservice with challenging logistics.
In 1997 Nico asked his friend since kindergarten Johan to join the company. Johan, at that time a customer support manager, replaced Nico's wife as managing director. In the following years the company grew to appr. 1300, weekly serviced toilets, with a team of 20 employees during the summer season. Early 2000 the rental company was sold and Nico and Johan continued their partnership in ATLAS Portable Sanitation B.V., importing and exporting toilets, urinals, parts and toilet additives from their rental company's preferred make, Walex.
Since 2000 the ATLAS has grown steadily, now employing a full time 4 persons staff and a number of temporary employees during high season. More and more companies have found ATLAS as one of their key suppliers with a customer base in nearly all European countries as well as in the USA, Canada, Latin-America and Asia.
ATLAS's No. 1 priority is customer satisfaction, dedicating our experience to supplying high quality products at competitive prices. We hope our work enjoyment will add to yours and are looking forward to be of service in the coming years.